Beach could be your perfect wedding reception venue
Posted On : December 8, 2014
Posted By : Kevins Photography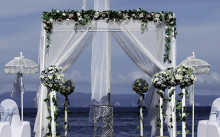 Looking beautiful on the day of wedding, taking photographs from a professional photographer is not only the things that makes a wedding a perfect wedding. A perfect venue is also the other main thing that makes a good impression to the wedding guests. Keeping this aspect in consideration Kevins Photography also helps the wedding couples to choose a perfect Wedding Reception Venues.
Kevins photography is a highly accomplished company which provides wedding photography services as well as professional makeup, and also choose a perfect spot or venue for your wedding. Beach weddings in Sydney is a popular venue for a wedding ceremony.
We have stories of couples whose beach wedding was a blast, how they came to us, how we made their wedding the most memorable day of their life. Kevins Photography has never disappointed any of its clients. Every customers comes with a smile and goes with the memory of lifetime.
And if you think that choosing a venue for a wedding is only our service then you might think again. Kevins Photography provides service of choosing the appropriate venue for reception. Guest will be happy about the place and the decoration made by our team members. We also have highly qualified interior decorator who are dedicated to their work. So with all these facilities we provide you, with all the reputation of working and serving people of Sydney. If you are going to have a wedding then Kevins Photography must be your first choice for wedding photography.