Beach Weddings Sydney & Reception Venues
Posted On : March 29, 2014
Posted By : Kevins Photography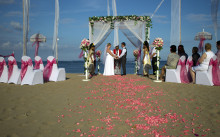 Kevins Photography, as you know is one of the best Wedding Photographers in Sydney with various services. We not only deal with wedding cars and wedding dresses. We also focus highly in wedding reception venues. What can be more beautiful and romantic than beach weddings Sydney? And now, you don't have to worry, we have multiple venues of your choice to celebrate your day.
Kevins Photography knows that beaches are still popular wedding venue for romantic couples. Balmoral beach, Clontarf beach, Shelly beach, Manly beach as well as other multiple beaches could be the perfect choice for you in your wedding day. Whether your ceremony is an intimate wedding of 50 or more than 50 guests, we are ready to handle every situation. We are able to build our reputation on quality and service. We understand the excitement, joy and nervous anticipation of your very special day. That is why we put our full effort on wedding reception venues because we know how it values for you. The highest standards of catering and personal service are assured so that you can simply relax and enjoy the day with your friends and family.
Being with Kelvin Photography you don't need to be worried for wedding reception venues Sydney or it is with beach wedding Sydney. We try to be the best service provider for you and entire Sydney. Please remember us for your very important day. We feel our honor to serve you.