Campbelltown Makeup
Posted On : March 29, 2014
Posted By : Kevins Photography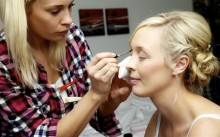 Kevins Photography aims to give you a perfect look from professional makeup artist on your wedding day. We tailor makeup and hairstyle according to the individual looks that will last the whole day. Our objective is to enhance your own individual beauty by creating the look that you desire. With extensive working experience and being one of the professional service providers in Campbelltown, we provide a quality of product to make you flawless and beautiful.
Kevins Photography put its full effort in the makeup of the bride and bridegroom. Most people prefer to have Campbelltown makeup that is provided by Kevins Photography, because we know that makeup is a creative art. But it isn't just about the applicability of makeup – it's correcting, contouring, shading and creating that perfect style that you are looking for. We recommend a trial, so we can get to know your skin and consult to get your dream look. Every couple is special and unique, and wedding makeup must be special and unique to match. And our wedding photographer Sydney is a specialist who works with you to make beautiful and original images for you to treasure always.
Now, it's up to you to choose for your very special day and make it memorable. We promise you that we won't leave any chance with your makeup. If you still get confused, then you see our testimonials so that you can fully rely upon us. Once you come to us we won't let any chance to make you feel disappoint.