Wedding Photography Sydney With your precious moments
Posted On : March 29, 2014
Posted By : Kevins Photography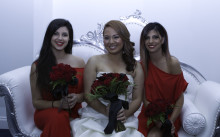 Kevins Photography is a highly accomplished wedding photography Sydney with many years of experience. We know that everyone wants to make their wedding day special, here we are for you. We aim to give you our best to make your dream come true and we provide high quality wedding photographs to reach your needs and demands on your special day.
Kevins Photography has provided wedding photography for many couples around Campbelltown, Sydney and surrounding areas. Our professional photographers are experienced and ready to serve you on your wedding day. We are not a temporary solution that you are looking for, we are the permanent answer to your wedding day. You might get confused while selecting best wedding photography service provider, but we are here to resolve your every confusion.
Our experienced staff can help you in deciding what you may require for the event so that you should not get worried with every single thing. We feel proud to tell you that we are also famous for wedding cars Sydney. We assure to make your day beautiful with wedding reception venues. Our foremost priority is to give best and reliable service to our clients and make you satisfied with our experienced service. For more details please go through our website and get the information that you are seeking for.